I saw a post where someone else had done something like this, and I thought it sounded like a great idea!  I am (not so secretly) a tea addict of the highest order–you know Ramona Flowers from Scott Pilgrim?  Kind of like that.  I have an entire cupboard in my kitchen devoted to tea, and every time I open it I'm afraid I'm going to get avalanched (I totally invented that word.)  Well, you get the drift.
So!  In honor of this addiction of mine, I bring you the first, (hopefully,)
Awesome Tea & Book Pairings!
If you agree, disagree, or actually try any of these, let me know!  🙂  I haven't necessarily had all of the teas I'm recommending, but I've had a LOT of tea, so.  You almost can't go wrong.  And I'll try to explain my decisions.  Hope you like the books, and the tea!
1. Imminent Danger and How to Fly Straight Into It by Michelle Proulx – Bombay Chai by Tea Forte
"Rich imperial spices for a flavorful cup of exotica."  This black tea is an invigorating mix of select Indian tea leaves blended with rich Imperial spices. Deep with the tingle of cardamom and clove, this cup is delicious by itself or when prepared in true Bengal fashion with milk and sugar.
Why Imminent Danger?  In a book where anything goes, morals are loose, and the main character is likely to get kidnapped any minute, you don't get a second to wait, and Bombay Chai can follow that pacing step for step.  As a black tea with a robust caffeine boost, it will keep you on the edge of your seat, even as its mix of naughty-and-nice–just like the wonderful mix of Varrin and Eris–glues your eyes to the page.  Not to mention that the ingredients, including ginger, cinnamon, cardamom, cloves, star anise, and black pepper, are reminiscent of the bazaar in the book and Varrin's space-pirate ways.  You get a motley, out-of-this-world, stellar combination, just like a story set amongst the stars.
2. Breathe of Air by Katie Jennings – Lemon Ginger by Yogi
"Say hello to our Green Tea Lemon Ginger. And say hello to a more vital, youthful you."  This tangy tea not only provides a refreshing pick-me-up with its tantalizing lemon flavor, but also aids digestion thanks to the wonderful stimulating properties of ginger. So, pour yourself a cup of this flavorful formula to revitalize your innermost essence and spirit.
Breathe of Air is a soft-spoken book with a bite, just like this Lemon Ginger tea.  Capri is the embodiment of her element, air–gentle, light-hearted, kind, sweet and refreshing–with a bit of a kick behind her, just like lemon.  Her love interest, Rian, is a fury, and comes down with all that entails, just like the snap of ginger.  It's an inviting aroma and a great taste, but it leaves behind a little something more, and when this book gets going, the going gets rough!  So settle in with a cup of this tea, and let it cleanse your essence and spirit–just like Capri struggling to come to terms with what has happened in her life, and where it will lead.
3. Acceptance by Keri Peardon – Opus Rouge Rooibos by Teavana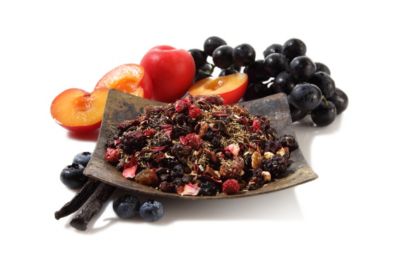 "Inspired by the world's best rich, red wines…"  This most luxurious green rooibos blend is a symphony of sweet and fruity, with crisp grade, blackberry and cranberry flavor and a smooth vanilla finish. The blush of red grapes, blackberry, cranberry and black currant blend beautifully, creating a scarlet red hue. Creamy madagascar vanilla, sweet orange and hibiscus flowers finish off heady, rich flights of fancy.
There's nothing like drinking a red wine (or in this case, tea,) while reading a vampire novel, but just as Acceptance isn't your typical fang book, neither is Opus Rouge a typical tea!  Rooibos is an exotic red tea from Africa, and although the book doesn't take place there, it goes outside the realms of the normal and explores a culture not often seen in this genre.  All Kalyn wants is the semi-normal life she loves–and maybe for Anselm to like-her-like-her–but it all comes crashing down.  The rich berries in this tea perfectly compliment all of the uncertainty in Kalyn's life, and all of the darkness.  Yet the seemingly-ordinary vanilla, like Kalyn, helps to smooth the rest out and make it shine.  A rich, sensuous tea for a rich, sensuous read.
(I know these first three were self-published, but I ran out of those, so I went for a couple of my favorite traditionally-published books to finish out the five!)
4. Across the Universe by Beth Revis – Mango Ceylon by The Republic of Tea
"This favored tea is light, sweet & intoxicatingly fragrant."   Mango & sunflower blossoms are blended with superior Black tea leaves to produce an uplifting cup. A favorite retreat for coffee lovers.
Across the Universe is more than just a story about a boy and a girl in space.  There's a lot of mystery, intrigue, murder, and conspiracies going back generations.  The people on this ship have something to hide, and their leaders might go to great lengths to keep those secrets in the dark…  Elder and Amy will find themselves tested at every turn, and someone already tried to kill Amy once.  This tea has its own secrets.  Dark ceylon and black tea make this a deep and rich cup, steadfast and constant like Elder.  However, all of that changes when Amy arrives, just like the fruity bits of mango and sunflower blossoms.  This tea has just as much intrigue as the book, and will keep you coming sip after sip and page after page.
5. Wicked Appetite by Janet Evanovich – Cranberry Apple Zinger by Celestial Seasonings
"This spirited blend brings to mind the unique flavor of fresh, homemade cranberry sauce."  They've infused bushels of lively, antioxidant-rich cranberries with tart, juicy apples and exotic yumberries, a healthy Asian fruit also known as a Chinese strawberry. The result is a vibrant tea that can be enjoyed hot or iced all year long.
Cranberry Apple Zinger is a bright, happy, fruity tea, that still speaks to home and hearth.  Lizzy finds herself feeling at home in Salem–that is, until Diesel drops in with a whole mess about finding deadly stones.  (Plus a monkey.)  Never a dull moment for Lizzy as she tackles all of these problems with a smile and a cupcake, and you'll hit this book with vigor and a cup of Cran-apple zinger.  Of course, underneath the sweet is a little bit more with the bite of cranberries, just like it would be impossible to ignore Gerwulf, the bad guy, or the sexy vibes that Diesel sends off.  For a lively tea and a lively book, you can't do better!
Well, I guess that's it for this time!
So!  What did you think?  Did you enjoy my little tea & book suggestions?  I had a fun time coming up with them!  I'll try to read some more self-published books between now and the next time I do one of these so that I can give you a few more of those, or at least some indie things.  If you have suggestions let me know–always looking for something to read.
Peace out, and have a cup of tea. 😉
Celeste